The house consists of two floors. On the ground floor there is a living room, a large dining room, a bedroom, a bathroom, and the kitchen. Upstairs a living room, two bedrooms and two bathrooms. Even during the hottest months of the year the house remains cool because of the thick walls and does not need air conditioning.
Outside the house there is a terrace with a barbecue, partially covered by a Virginia creeper vine that shade the dining area.
A few steps from the terrace is the swimming pool with a charming landscape.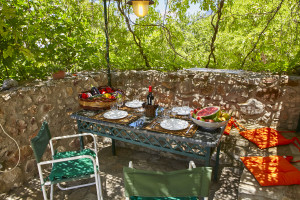 A beautiful attraction of the house is the authentic outdoor staircase of the eighteenth century.
The house is surrounded by a huge fenced private garden, with many flowering plants and an oak grove, ideal for children to play outside and do some walking.
Behind the house there is an open space to park the car and a nice basketball hoop.
It is a perfect retreat for families to unwind, enjoy the house and its facilities and explore this exquisite part of Sicily characterized by medieval villages.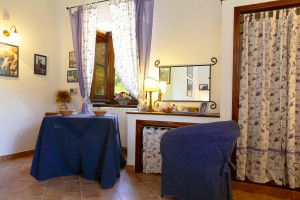 It is easy to reach: 90 mins from Palermo airport (5 London flights per day); 90 mins from Catania airport and 30 min from the main Sicilian Autoroute. Unlike most of the other villas and hotels, this accommodation is located strategically in the heart of Sicily, maximum one or two hours drive from the main attractions of the island, allowing guests to enjoy an unforgettable holidays. The villa is also equidistant from the major airports of the island so that you can easily plan your flights.
The village of Polizzi Generosa, with its bars, grocery stores, restaurants and picturesque steep, narrow streets, is less than 10 mins drive from Villa ai Mulini.
Fresh air, picturesque landscapes and breathtaking sunsets will all contribute to an authentic holiday in Sicily.
Contact us at: info@aimulini.co.uk